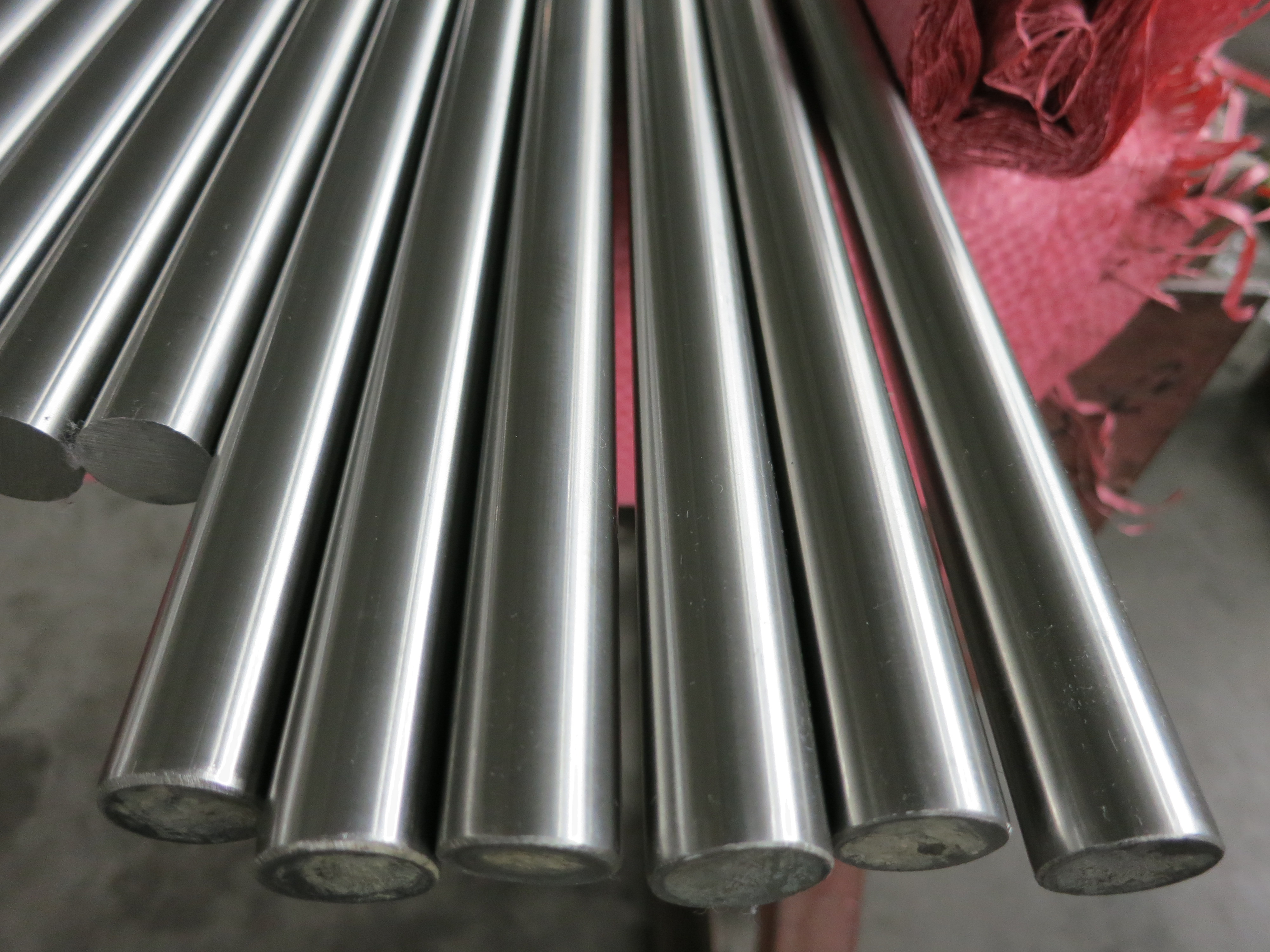 China Yangzhou Guotai Co., Ltd. is a modern comprehensive enterprise specializing in the development, production and sales of stainless steel round bar. Our company has passed the ISO 9001 international quality management.
The company produce stainless steel round bars of steel grade: 201, 301, 302, 303Cu, 304, 316, 316L, 310S, the diameter range: 3mm to 250mm, processing methods include hot rolling, hot forging, cold drawn and grinding. Our stainless steel round bars are widely used in electric power, petroleum, chemical industry, bridges, ships, construction and other fields. The products are exported to more than 40 countries.
The stainless steel round steel produced by our company has good surface finish, stable diameter tolerance and excellent processing performance. The product quality is widely recognized by customers. Welcome new and old customers to come to visit our factory.
Here we introduce several identification methods of stainless steel round bar as following:
Physical identification is to determine whether or not it is stainless steel round bar and which kind of stainless steel round bar it belongs to by means of sensory organs, according to the inherent physical and chemical properties of the commodity and simple utensils under the condition of unknown steel grades.
It should be pointed out that sensory identification can not distinguish specific steel grades, but can basically distinguish chromium stainless steel, chromium-nickel stainless steel and chromium-manganese-nitrogen stainless steel.
1. Identification of colour and lustre
After pickling, the surface of stainless steel is silver-white and clean: chromium-nickel stainless steel is silver-white and jade-colored; chromium-stainless steel is white and slightly gray-glossy; chromium-manganese-nitrogen stainless steel is slightly similar to chromium-nickel stainless steel in color and luster. Unpickled stainless steel surface color: chromium-nickel steel is brown-white, chromium steel is brown-black, chromium-manganese-nitrogen is black (these three colors refer to the heavier oxidation color). Cold-rolled unennealed chromium-nickel stainless steel with silver-white reflective surface.
2. Identification of Iron Absorbing Stone
Magnets can basically distinguish between two types of stainless steel. Because chromium stainless steel can be attracted by magnets in any state; chromium-nickel stainless steel in annealing state is generally non-magnetic, after cold processing, some will have magnetic. However, the high manganese steel is non-magnetic; the magnetic properties of chromium-nickel-nitrogen stainless steel are more complex: some are non-magnetic, some are magnetic, some are non-magnetic in the longitudinal plane and some are magnetic in the transverse plane. Therefore, although magnet can basically distinguish chromium stainless steel from Chromium-Nickel Stainless steel, it can not correctly distinguish some special properties of steel, let alone specific steel grades.
3. Identification with copper sulfate
Remove the oxide layer from the steel, put a drop of water on it, and rub it with copper sulfate. If it does not change color, it is stainless steel; if it becomes purple red, it is high manganese steel without magnetism, and if it has magnetism, it is ordinary steel or low alloy steel. For steel grades with special properties, we still need to adopt the following three methods to identify them.
4. Flower grinding identification
Grinding discrimination is to grind stainless steel on a grinding wheel and observe its sparks. If the sparks are streamlined and have more dense knots, they are high manganese steel or manganese-nitrogen steel; if no knots, they are chromium steel or Chromium-Nickel Stainless steel.
5. Identification by annealing method
Cold-processed Chromium-Nickel Stainless steel, if magnetic, can take small pieces of red in the fire for natural cooling or put into water (annealing). Generally speaking, after annealing, the magnetism will be significantly weakened or completely disappeared. However, some Chromium-Nickel Stainless steels, such as Cr18Ni11Si4AlTi steel and Cr21Ni5Ti steel, contain more ferrite elements, and their internal structure is quite ferrite. Therefore, there is magnetism even in the state of hot working.
6. Identification by chemical qualitative method
Chemical qualitative method is a method for identifying whether nickel is contained in magnetic stainless steel. The method is to dissolve small pieces of stainless steel in aqua regia, dilute the acid solution with clean water, add ammonia water and neutralize, then gently inject nickel reagent. If there is a red velvety substance floating on the liquid surface, it indicates that there is nickel in stainless steel; if there is no red velvety substance, it proves that there is no nickel in stainless steel (but because the nickel content in stainless steel is low, generally only a few percent, the nickel content is not easy to reveal or determine how much, usually it can only be mastered after many experiments with standard samples).
The above identification methods show that the identification of stainless steel by inductive tube requires not only comprehensive tests by several methods, but also the test results can only determine a certain type of stainless steel, which alloying elements and specific contents are not determined. Therefore, the method of sensory identification is extremely imperfect, some may be wrong, and many physical phenomena need to be further explored.
The best way to distinguish stainless steel grades correctly is to conduct in-depth investigation and research, and ask the relevant testing units to carry out detection and determination. This is the basic method to distinguish stainless steel grades and quality correctly.